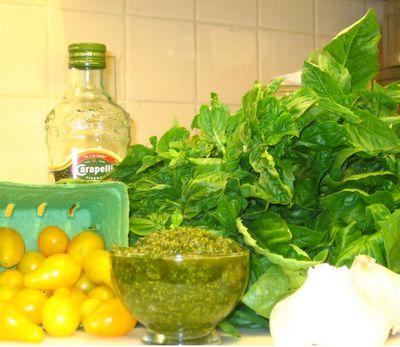 Basil and garlic are tops on my list of favorite ingredients, especially this time of year when basil plants are so huge. That fabulous aroma as you brush by basil plants that come up to your knees - awesome!!!
Several years ago my hubby and I went to France for a two week vacation - Paris and the Loire Valley. Paris is such a romantic and fabulous place to visit, but not particularly enjoyable in a record breaking heat wave since air conditioning is not standard in many hotels or restaurants. I whined most of the time we were there and even forced us to go to a movie. Imagine being in a city filled with history and art and fabulous cafes, where the scenery is breath-taking and the food.....well, you know. So you can also imagine how brutally hot it must have been for us to go to a movie (it was the only air conditioned activity available). Somehow we ended up seeing Rangoon - a movie taking place in a swelteringly hot country (everyone in the film was sweating) and the air conditioning wasn't working in the theater either. But again I digress. The Loire Valley, on the other hand, with its magical chateaus, vineyards and quaint towns was perfect. We even (and maybe the best part) stumbled across a special market day in Tours. It was like going to a fair.
My honey and basil.
Strangers getting between me and my garlic!
Not only were there vendors selling braids of garlic (I've never seen so many in one place) and pots of basil, others were selling the most delicious savory sausages laced with both basil and garlic. There is nothing quite like eating a juicy sausage on a freshly made baguette by the side of a lake or river (I'm not sure which it was, but the image still remains - and I'm drooling as I write this).
Back to basil and garlic. My fridge always has a tub of homemade pesto. It's simple to make and delicious morning (scrambled eggs with a dollop of pesto and some creamy goat cheese), noon (use as mustard in a wrap, make a pizza with pesto as a base instead of tomato sauce) and night (too many dishes to list). Here's my version.
Pesto Sauce
From Every Kitchen Tells Its Stories
I call this "Pesto", but actually traditional pesto comes from Genoa Italy and has pine nuts and little or no garlic. This is more like Pistou from Provence, France – lots of garlic and no pine nuts.
Makes 1½ cups
I use a food processor and just throw everything in to speed up the process.
Total Cooking time:
10-15 minutes
Ingredients:

2 cups fresh basil leaves firmly packed (discard stems), washed and dried well (usually two bunches)
1 cup Parmesan cheese, finely grated
3 large cloves garlic
½ cup olive oil
1. With the food processor running, drop garlic through feeding tube. If you don't have a food processor you can use the traditional way it's done in Italy- use a mortar and pestle to hand grind the ingredients into a paste.
2. Add basil leaves to the food processor bowl and pulse on/off until the basil is chopped, add cheese, blend until well blended. (1 minute or so). Add oil through the feeding tube while the machine is running to create a smooth pesto paste.
3. Place in a container that seals well and refrigerate. I use clingy plastic wrap that touches the entire surface area so that the pesto won't turn dark (oxidation does that so keep it exposed to air as little as possible). Pesto will keep for a couple of months in the fridge.
I use pesto on a million things, but I thought I'd share a few ideas with you.
Focaccia Toasts with Pesto & Brie
Things I always have on hand for those surprise visitors and my late night cravings
: Rosemary Focaccia, sliced and in the freezer, a tub of pesto and cheeses like Brie and Goat cheese that gets so melty under the broiler.
This is really simple. Toast the bread, slather on some pesto, top with a thin slice of your favorite subtle, creamy cheese and place under the broiler until the cheese starts to bubble. The whole thing takes less than 5 minutes. It's great as an appetizer or snack.
Roasted grape tomatoes and garlic
, tossed with pesto makes a great chutney/savory jam.
1. In a hot oven (400 degrees F/ 200 degrees C) place whole cloves of garlic (unpeeled) in an oven proof dish and toss with a little olive oil. Bake until soft - 5 -10 minutes, depending on the size of the cloves.
2. Cut grape tomatoes in half, add to the garlic, add salt, toss and bake an additional 3-5 minutes. You want the tomatoes to just start to soften, not to turn to mush.
3. Add some pesto and toss - et voila. Another excellent topping for focaccia or crackers.
Pasta with Pesto, Asparagus & Mushrooms
Total cooking time
: 30 minutes or less
Ingredients:
1 cup pasta/person
assorted mushrooms, quartered or sliced (amount is left up to you)
asparagus tips (or broccoli or any other vegetable you like)
cooked chicken slices (an option for the carnivores)
1/4 - 1/2 cup white wine
2 tbsp pesto (at least)
grated parmesan cheese to taste
1. Boil your favorite pasta (my honey's is penne) until al dente.
2. In the meantime in a fry pan, saute a variety of mushrooms (this time I used shitaki, chanterelles, and oyster), asparagus tips for 5 minutes on medium high heat (until the asparagus is bright green and just a bit crunchy).
3. Add about 1/4 cup of pasta water to the mushrooms, a large dollop of pesto, some white wine and toss.
4. Drain the pasta and toss with the mushroom mixture. Sprinkle with parmesan cheese and serve.
Variations:
I use whatever vegetables I have on hand.
It's great with sliced smoked chorizo sausages as well
Best part:
The left overs make a fabulous
frittata
.
Just add the cold pasta to the whipped eggs and bake for about 15-20 minutes at 350 degrees F/180 degrees C. We were too hungry to wait for a side salad.
Stay tuned for more basil recipes.