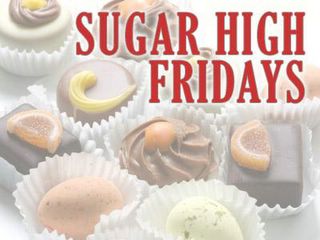 It's a special Sugar High Friday event hosted this time by Jennifer at
Taste Everything Once
The focus is on "love inducing sweet treasures" and for me that can only be chocolate. Now many scientists have long studied chocolate to find out just why it gives us such a high. All very interesting facts and if you want to know more check out this
web site
.
As for me,
chocolate
is all about savoring the taste and the texture. That slow melt on the tongue that coats your whole mouth and has you moaning (well, me anyway). Now I happen to be married to the most romantic man ever. I've been getting roses every month since our first date - more years ago than I'm prepared to share. He thinks I'm sexy and beautiful even when my mirror is telling me something completely different. And guess what his favorite dessert is….chocolate anything. So I came up with this Dark Chocolate and Candied Orange Tart just for him. It will be featured in my upcoming cookbook -
Every Kitchen Tells Its Stories - Recipes to Warm the Heart

.
I was going to make everyone wait for the book - but I'm feeling a lot of love and want to share it with you. Enjoy!!
Related links:
Food and Drink
recipes
SHF
Chocolate